It has been a busy, busy, busy week, and at the same time, a very multifaceted one.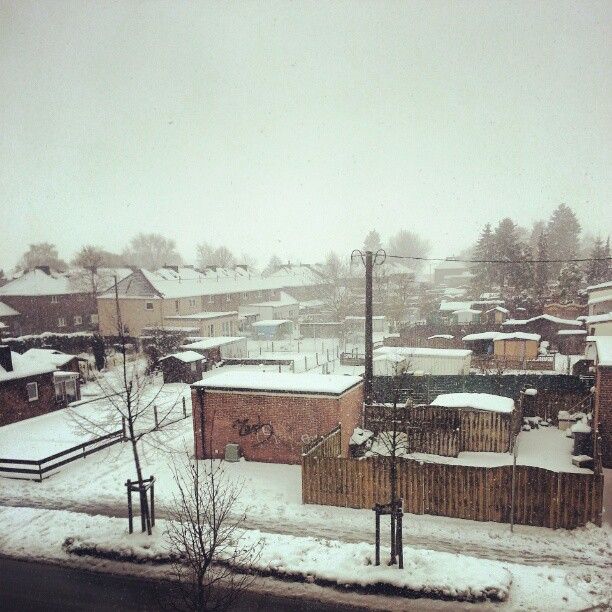 Last week, a
SNOW STORM
covered landscapes with endless white blankets, and now we are bathing under a clear, blue sky with the nature's most powerful spotlight opening a colorful spring show.
FINISH MOVING
early or late enough to avoid the unfavorable weather condition. I had to finish moving during the snow storm. So instead of simply carrying things from A to B, it became a fight against slippery ground and snow flakes doing their wild dance in the air. With a bit of waddling, slipping, cold feet and muscle soreness, I somehow managed to puzzle my final pieces of furniture and stuff into the car, and started the snowy driving adventure with my
FLUFFY COMPANY
who seemed to feel like a king on the co-driver's seat. I brought this teddy all along from Australia, and it experienced already once the privilege of occupying an entire passenger seat, because I had an empty seat next to me in the flight - such a lucky thing.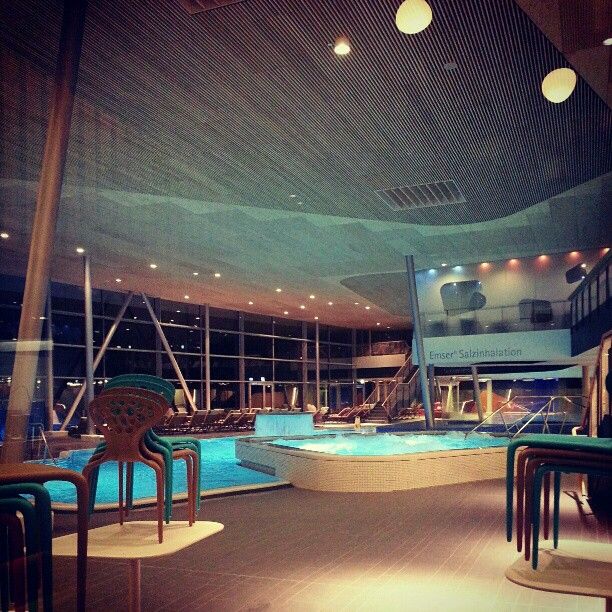 The entire moving process has drained so much of my human battery that I totally deserved a little
THERMAL PARADIES
. It's the
Emser Therme - Wellness & Sauna
, located in Bad Ems near Koblenz in Germany. My friends and me expected something of a larger scale since it is newly built and has just opened in the end of December last year.
However, the atmosphere was very pleasing and they offer many options for pampering yourself: The main pool, the refreshing outdoor pool, the hot pool, the cold pool (probably the least popular one, but it stimulates the blood circulation and strengthens your immune system), three or four different herbal-steaming rooms (they differ by temperatures), also several saunas and many resting areas. Massage is provided for an additional fee.
I am not sure how much of the minerals in the water my skin could absorb, but I felt so squeaky clean and healthy after enjoying thermal bathing there - and 15 Euros for 3 hours (even including sauna) is actually a good value!
I haven't been to this place for 4.5 years already, but I suddenly felt that I should re-visit this place and the people from my memory there -
MY HIGHSCHOOL
. I was totally overwhelmed by its transformation and everything that has been replaced by some eco-friendly construction or modern technology. Chalk boards were now pen boards, computers were everywhere, the paper news board became a large LCD TV screen, classrooms have now air-conditioning systems, and homework is now received via email or through a forum. It's actually nothing special, because universities have this equipment and these tools, too. But other than being a big, well-renowned institution, my highschool is based in a lovely middle-sized village, so these changes were strange to me.
I actually had a meeting with a teacher of mine and caught up about life a bit. She has always been a teacher I liked very much, because she never only taught us about study materials, but also trained us a lot for processes of learning in the future. To be honest, I teared up a bit when she told me how teachers still remember me, like how some teachers had mentioned me after I graduated :')
HANNARI TOFU COLLECTION
with me to decorate my new home over there, so I've decided to take a photo of them and switched my fb cover picture, haha! I totally have a weakness for this fluffly tofu thingy, hope I can find more of them in Hong Kong later, wakakakkaa.
Doesn't the right photo make people think that I was
A GEEK
xD? Beside preparing some memories, I also setup computers for my parents so they can easily use them without me showing them each time. My parents are now so tech-savvy with their facebook, skype, yahoo messenger, whatsapp. I can't believe that I've really taught them the full set of main online communcation channels, and my mum got the habit to message me the same message through ALL these channels to make sure that I do receive her messages...